Dinosaur storytimes are always a hit. I jazzed mine up this past week with a felt board story and action rhyme. I read two stories that required the kids to ROAR!! Those little ones can make terrifying dinosaur sounds. :-)
For this storytime I read:
Dinosaur ROAR! by Paul & Henrietta Stickland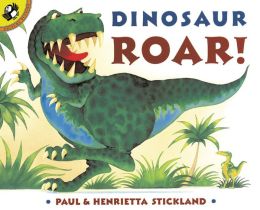 Dinosaur Stomp! by Paul Stickland
After the stories we used the felt board:
Five Enormous Dinosaurs
I made a printout for the kids to color and take home. You can print it out for your use
here
.
Enjoy!