For my evening Storytime this week I decided to do a beach theme. The kids loved it. I pulled out my coconut and pineapple bowling set for the beginning play time and the kids couldn't get enough of it! I had a hard time narrowing my book selection for this one but I got it down to three books and a poem.
The books: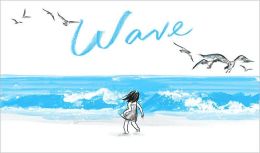 I found the poem
Five Little Seashells
and made a printout for the kids to color and take home. You can print your own copy
here
.
I turned it into a felt board as well. Below is my quick attempt at an ocean wave.
I found pictures of shells on the internet to trace onto felt.
For our craft we made a seashell wreath. I cut out paper plates and tied a ribbon to the top. The kids used glue sticks to add squares of tissue paper to the plates. I had the kids pick out 6 small seashells and used glue dots to attach them to their wreaths. The glue dots were perfect for this craft. I didn't want to pull out the hot glue gun for this project and school glue takes to long to dry. If you don't have glue dots go get them. They are wonderful for crafting!
Here is my sample wreath.
Enjoy!